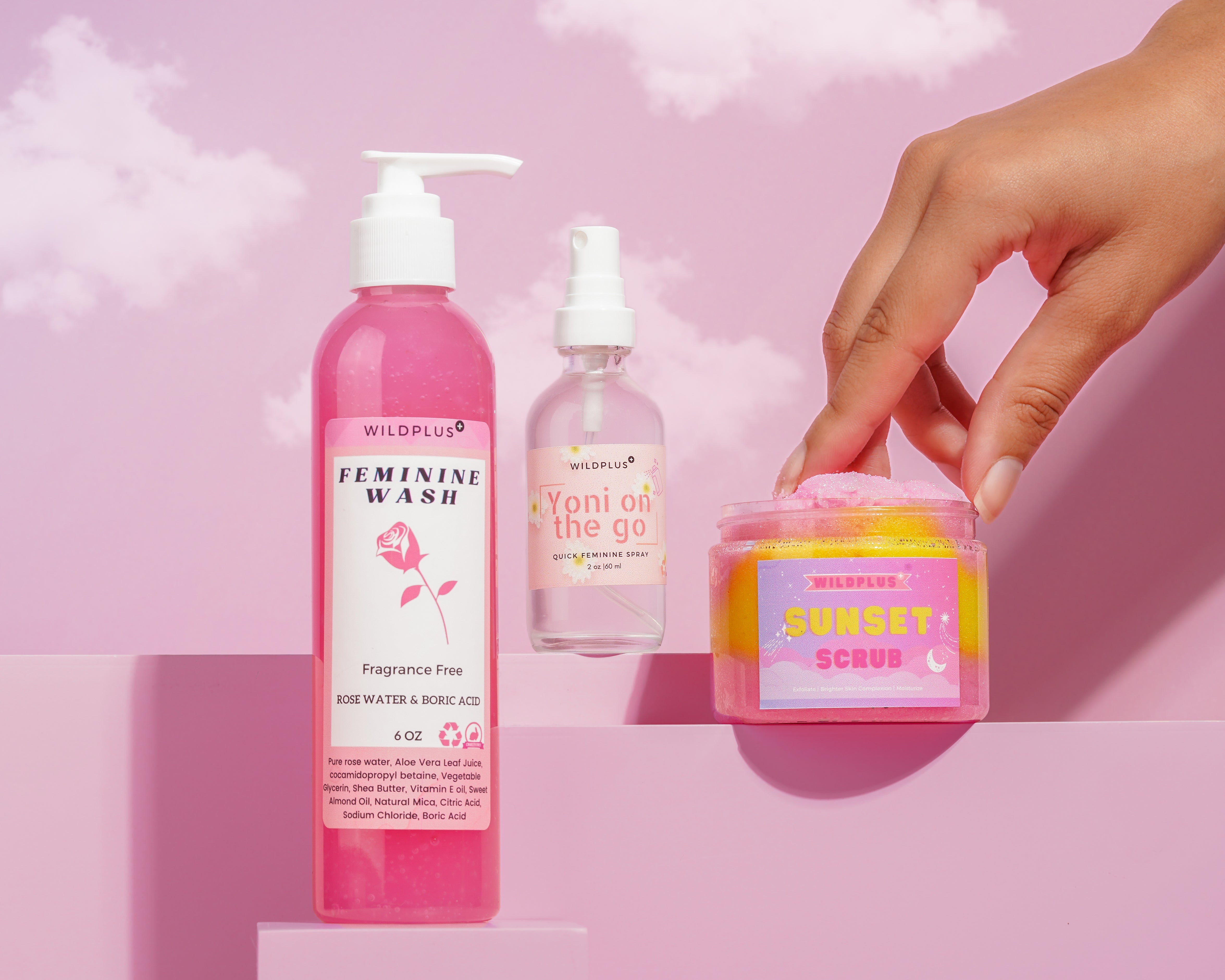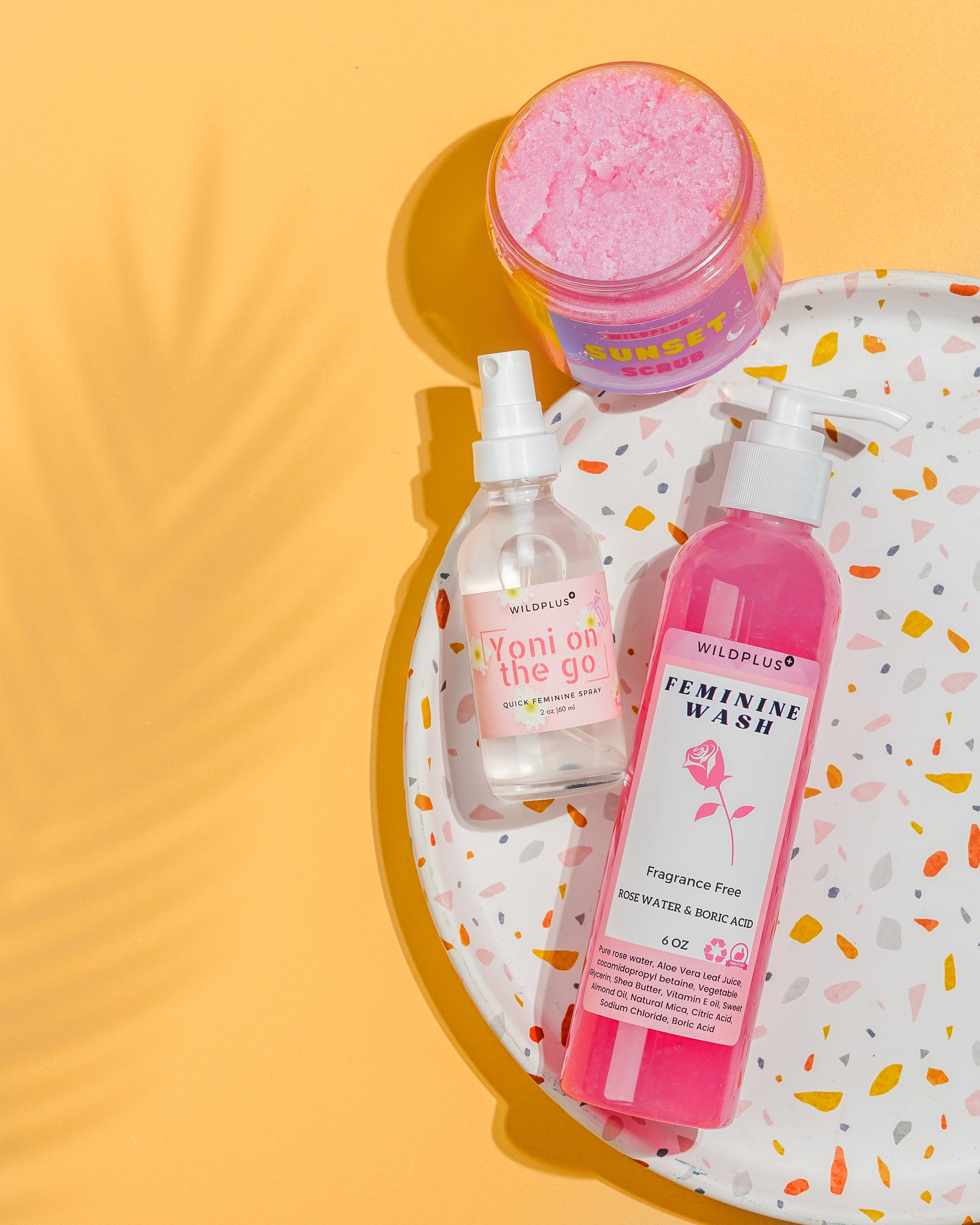 Regular price
$68.00
Sale price
$59.90
Unit price
per
Sale
Sold out
The essential bundle to maintain your daily 🐱 hygiene. 
It'll keep your refreshed and healthy so that you can kiss any worries goodbye.  
Be ready to feel and smell your best downstairs at any time! This is the perfect combo to stay clean no matter if you're at home, or in need of a boost in a matter of seconds!
Why You'll Love It

PINK ALOE WASH 💖
- Removes bad odors
- Balances your pH level
- Increases your wetness
FEMI SPRAY 💧
- Removes bad odors fast
- Increases your moisture quick
️- Reduces irritation or dryness
SUNSET SCRUB 🌈 (only available in this bundle)
- Reduces ingrown hairs
️- Lightens your dark spots
- Eliminates dry skin
Ingredients

All of our products are made with natural ingredients for an ultra-clean formulation that is safe to use.

PINK ALOE WASH 💖
Aloe Vera Leaf Juice, 100% Pure Rose Water, Cocamidopropyl Betaine, Vegetable Glycerin, Pure Vitamin E Oil, Sweet Almond Oil, Natural Mica, Citric Acid, Sodium Chloride, Boric Acid
FEMI SPRAY 💧
Pure Rose Water, Aloe Vera, Citric Acid, Vegetable Glycerin, Witch Hazel, Lavender Oil, Potassium Sorbate
SUNSET SCRUB 🌈 (only available in this bundle)
Turmeric Powder, Grapefruit Extract, Kojic Acid, Manuka Honey, Lemon, Citrus Stem, Organic Sugar, Glutathione, Shea Butter, Vitamin C, Vitamin E, Lemon
How To Use

PINK ALOE WASH 💖
1. In the shower pump out the desired amount of wash into your hand.
2. Rub the vulva and outside 🐱 area gently.
3. After thoroughly applying rinse off with water.
FEMI SPRAY 💧
1. Make sure your skin is dry.
2. Shake the bottle a few times to activate formula.
3. Spray a few squirts on outside 🐱 area.
SUNSET SCRUB 🌈 (only available in this bundle)
1. Scoop out desired amount of scrub into your hand.
2. Massage onto your desired skin area.
3. Rinse off with warm water.
Shipping & Returns

We offer free insured shipping for all orders over $75+.

Order processing takes 1-3 business days before shipment.

Once your items are dispatched, the estimated delivery time is:

- USA: 2-5 business days
- Canada: 3-7 business days
- Rest of world: 7-10 business days

We love all of WildPlus™ products and are confident you will too! That's why we offer a 30-Day, Risk-Free Trial. If you don't love it, we'll give you a refund.

Due to high demand, there may be slight delays! ❤️
View full details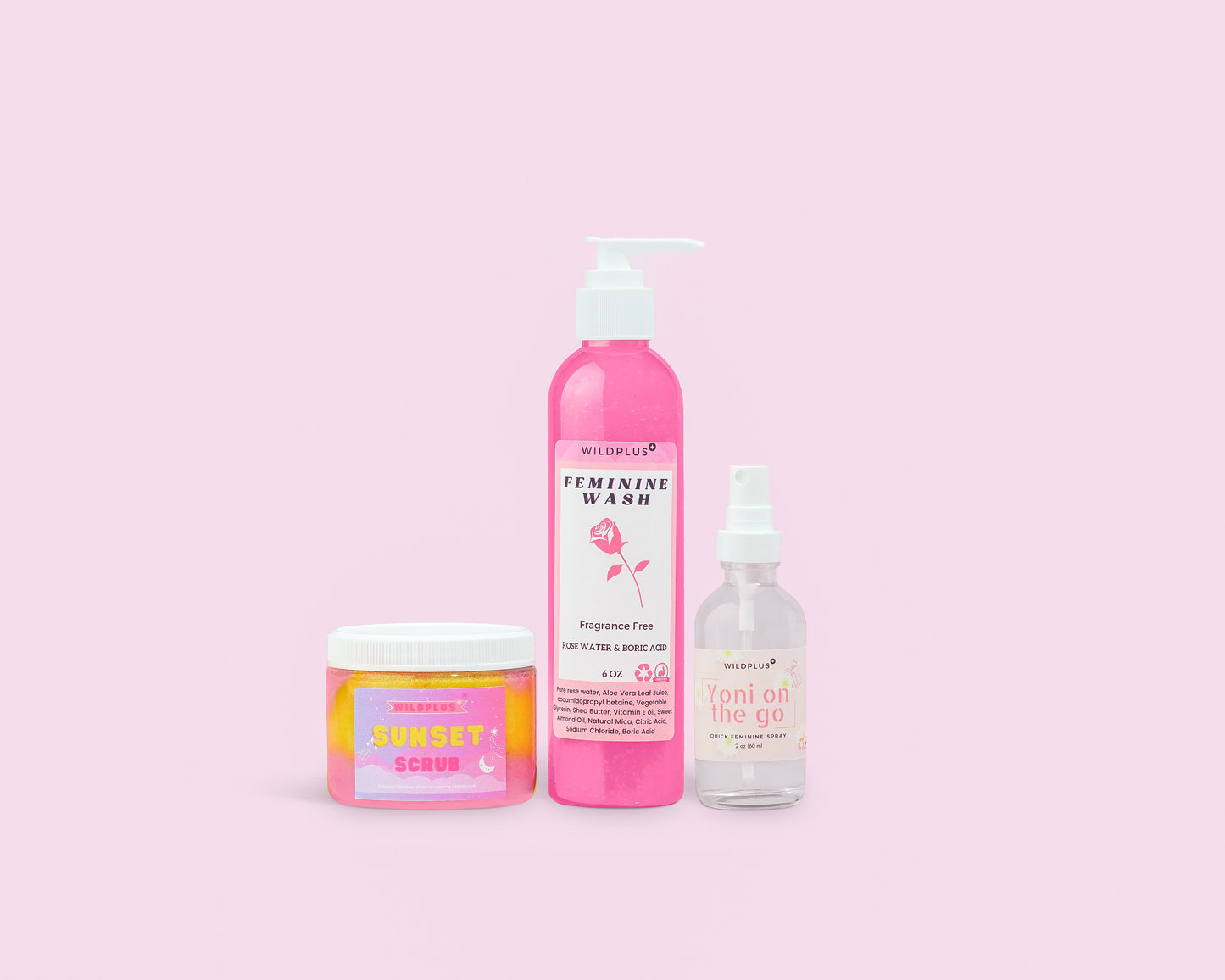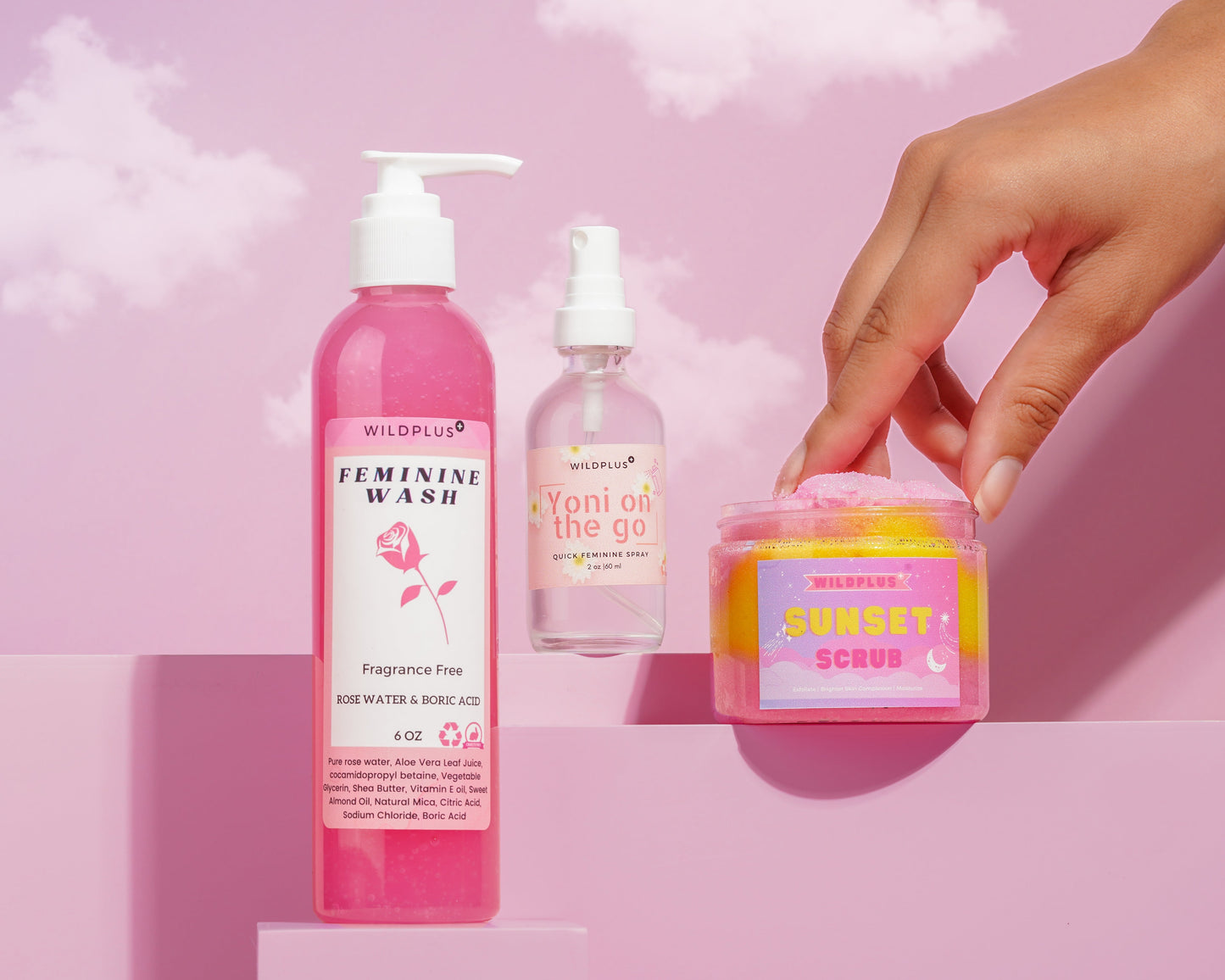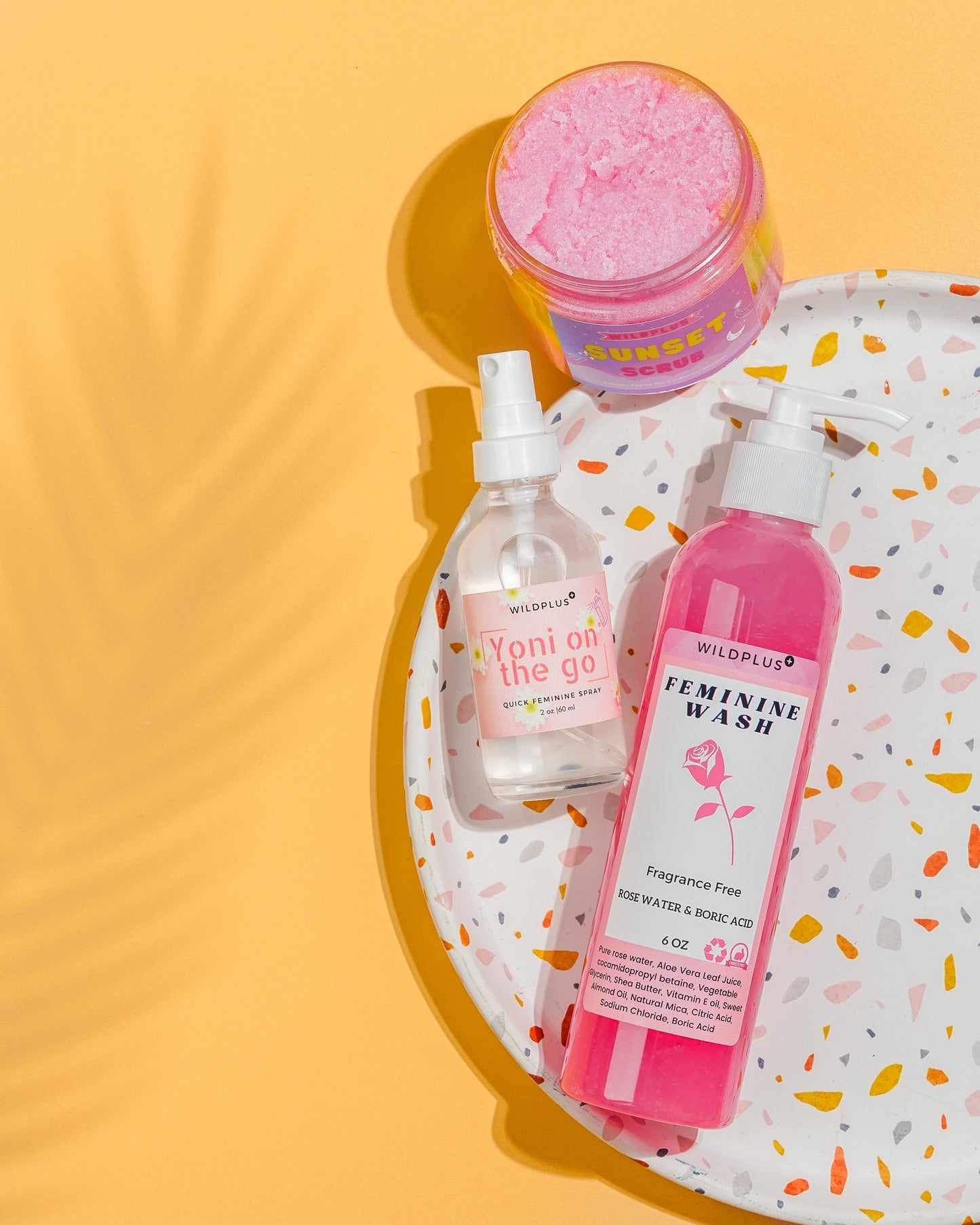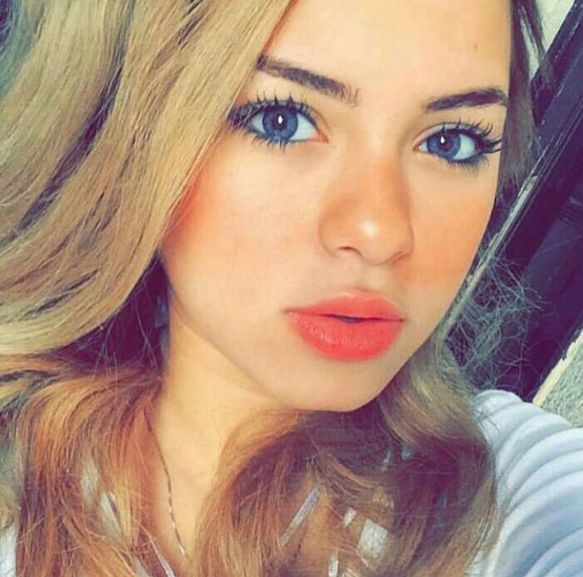 "I've become obsessed since I started using... and my man said he approves!"
- Emma from Texas